The Riverside Continental Chocolate House
Gets better each each year - thank you - see you next yar
In the quiet mountain village of Pentrefoelas in North Wales, Roy, a Master Chocolatie found, at last, the atmosphere for which he had been searching - the mountains, rushing streams, and a perfect riverside building - now panelled as a Swiss chalet.


A truly magical place!!!!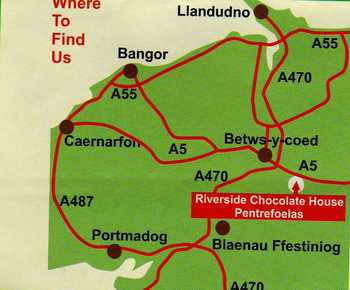 Roy's Chocolate House is a unigue, and exclusive, Continenal Style Chalet where everything is hand-made by Roy on the premises.
Relax in the ambience of The Chocolate ouse with one of Roy's now famous Hot Chocolate drinks, which uses the same blend of chocolate as that used in the Chocolate Room, served with fresh whipped cream and covered with chocolate sprinkles.
Roy is not only a master Chocolatier, but also a Master Patissier, and he creates the most delicious roulades, tortes, banoffies and pastries etc., it would be a pity not to choose something from this mouthwatering array of gourmet patisseries to enjoy with your chosen drink.
The Chocolate does not have a website but I have directed you to a site which gives details of the area.

The village of Pentrefoelas and surrounding area is not only inhabited by humans, but also by the little people.
Lovely food, fantastic company, see you January 2009 - Alarm Fans Unite
The Riverside Continental Chocolate House Statistics: 563 click throughs, 21020 views since start of 2022
Attraction in

Pentrefoelas

Conwy
Entrance Charge

Opening Times

3rd May - 31st October, Thursday, Friday, Saturday & Sunday only.

News and Special Offers

Contact Details

The Riverside Continental Chocolate House

Pentrefoelas

Conwy

UK