Cain Jewellery & Gifts
About Us
Cain is a unique, established retailer selling silver and costume jewellery as well as a range of scarves, bags and gifts.


Since establishing ourselves we've grown and diversified, and our range continues to evolve, moving ahead to offer more individuality and variety.


As well as fixing your broken jewellery, we can also hand make jewellery especially to suit your needs, whether for a wedding or a special occasion, or simply for everyday wear.


Each piece of jewellery comes in a Cain inscribed gift box. Or if you're not sure what to buy, we also offer a gift voucher service.


As well as selling online, we are available to sell at fairs, house parties and the like. Or why not invite us to speak at your social gatherings? Even better, come and visit our shop at Bulkley Square, Llangefni, Anglesey, where we will be more than happy to help!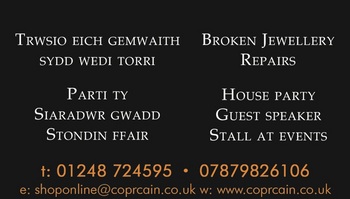 Mae Cain yn gwmni sefydledig unigryw sy'n gwerthu gemwaith arian a gemwaith gwisg yn ogystal â dewis eang o sgarffiau, bagiau ac anrhegion. Ers i ni sefydlu'n cwmni rydym wedi tyfu ac amrywiaethu, ac mae'r dewis a gynigiwn yn parhau i dyfu, wrth i ni gynnig mwy o unigolrwydd ac amrywiaeth. Yn ogystal â thrwsio gemwaith sydd wedi torri, cewch emwaith wedi ei wneud â llaw yn arbennig i chi, i weddu i'ch anghenion, p'un ai ar gyfer priodas neu achlysur arbennig, neu er mwyn gwisgo dydd i ddydd. Daw pob darn o emwaith mewn blwch anrheg gydag arysgrifen Cain arno. Neu, os nad ydych yn siwr beth i'w ddewis, rydym hefyd yn cynnig gwasanaeth tocyn anrheg. Yn ogystal â gwerthu ar-lein, rydym ar gael i werthu mewn ffeiriau, partïon tai ac ati. Neu beth am ein gwahodd i siarad mewn digwyddiad cymdeithasol? Gwell fyth, dewch i ymweld â'n siop ar Sgwâr Bulkley, Llangefni, Ynys MÔn, ble byddem yn fwy na pharod i helpu!
Cain Jewellery & Gifts Statistics: 28 click throughs, 6625 views since start of 2022
Shop in

Llangefni
Opening Times

9.30 - 5pm Mon - Fri
9.30 - 5pm Sat
Sunday - Closed
9.30 - 2pm Jan & Feb

News and Special Offers

Contact Details

Owner/Manager: Rhian Sinnott & Ted Thomas

Cain Jewellery & Gifts

Bulkley Square

Llangefni

Isle of Anglesey

LL77 7PN

UK