Our Breakfast Room.
Fresh Food to Enjoy Just for You.
Our agreeable breakfast room overlooks the south facing patio garden with its apple trees, unique bird house and mango wood garden furniture.
Local fresh produce is always used and from local Welsh farms whenever possible. When this is not possible our fresh produce is always bought from a local wholesaler.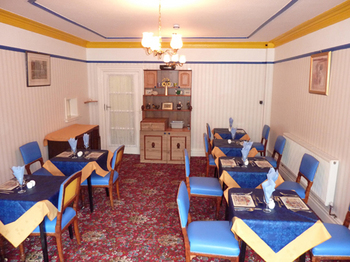 Meat is bought daily from the local Rhos on Sea award winning master butcher to warrant quality, freshness and use of authentic Welsh meats.

Fish is supplied from a local fishmonger in Llandudno guaranteeing the freshest of the catch. You will often see the big blue trawler just off the coast trawling between Llandudno and Rhos on Sea.

They have refrigerated vehicles that collect from the local wholesale markets each night to ensure freshness beyond question.
Our lounge presents a pleasant and relaxing atmosphere where one may enjoy discussing events of the day or the plans of tomorrow formulated.

David makes traditional wooden toys as his hobby and enjoys showing guests how they are made and his toy shop.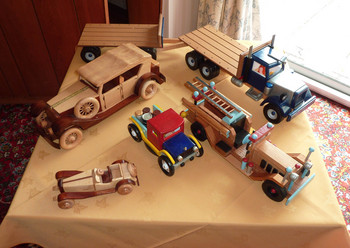 The Patio. Where, in the evening, you can relax with a game of chess or draughts till the sun goes down.

Taken from the Breakfast Room window 13th August 2012.

The apple tree was blown down in January 2012 and was replaced with a very large bird nesting house. A new photo has been taken this summer.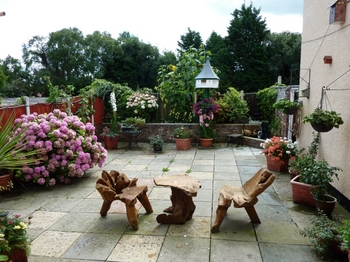 Our Breakfast Room. Statistics: 0 click throughs, 10723 views since start of 2022

Our Breakfast Room.
Our breakfast menu includes meat, vegetarian, and fish dishes.

Our chef, David, is able to cater for most dietary needs including:

Meat free diets (Vegetarian)

Sugar aware diets (Diabetes)

Gluten free diets (Coeliac)

Low salt diets (Blood Pressure)

Please speak to David if you have any special dietary needs or allergy's as he can tailor a breakfast to your requirements with pleasure. (01492 549931)